THERMAL LABEL PRINTER
Regular price
£630.00 GBP
Regular price
Sale price
£630.00 GBP
Unit price
per
Sale
Sold out
The Fox-in-a-Box® thermal printer is an ideal solution for cable and equipment labels across your projects. This versatile printer enables you to go from printing low-smoke zero halogen tie-no's, to wrap-around self-laminating labels, to asset tags, within a matter of seconds using just one software, one printer, and one ribbon.
Labacus Innovator® license
Print 160+ label variations
Includes YouTube Tutorial Set
Includes FOC Lifetime Updates
FOC Rapid Support Team
SKU:FIAB-BAS
View full details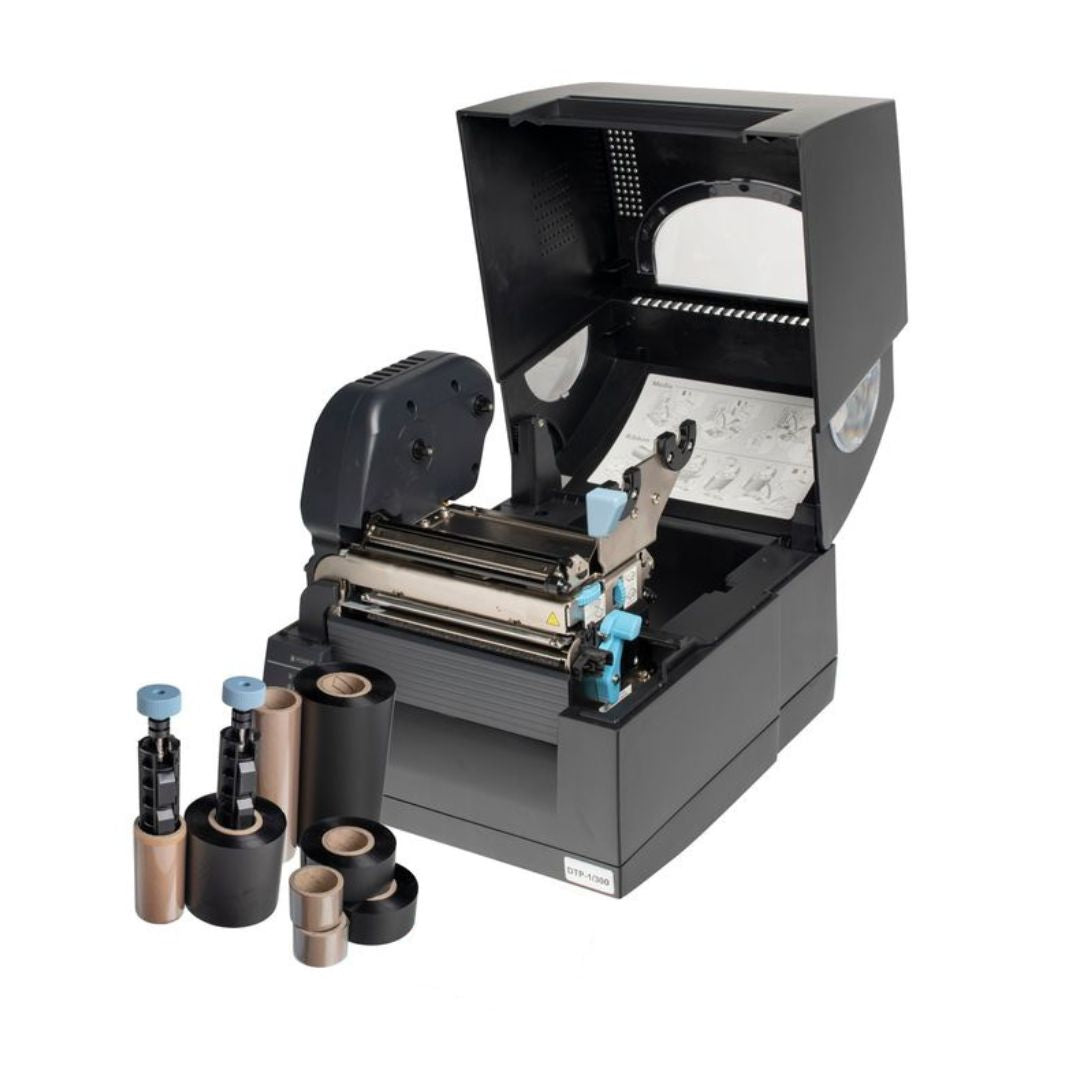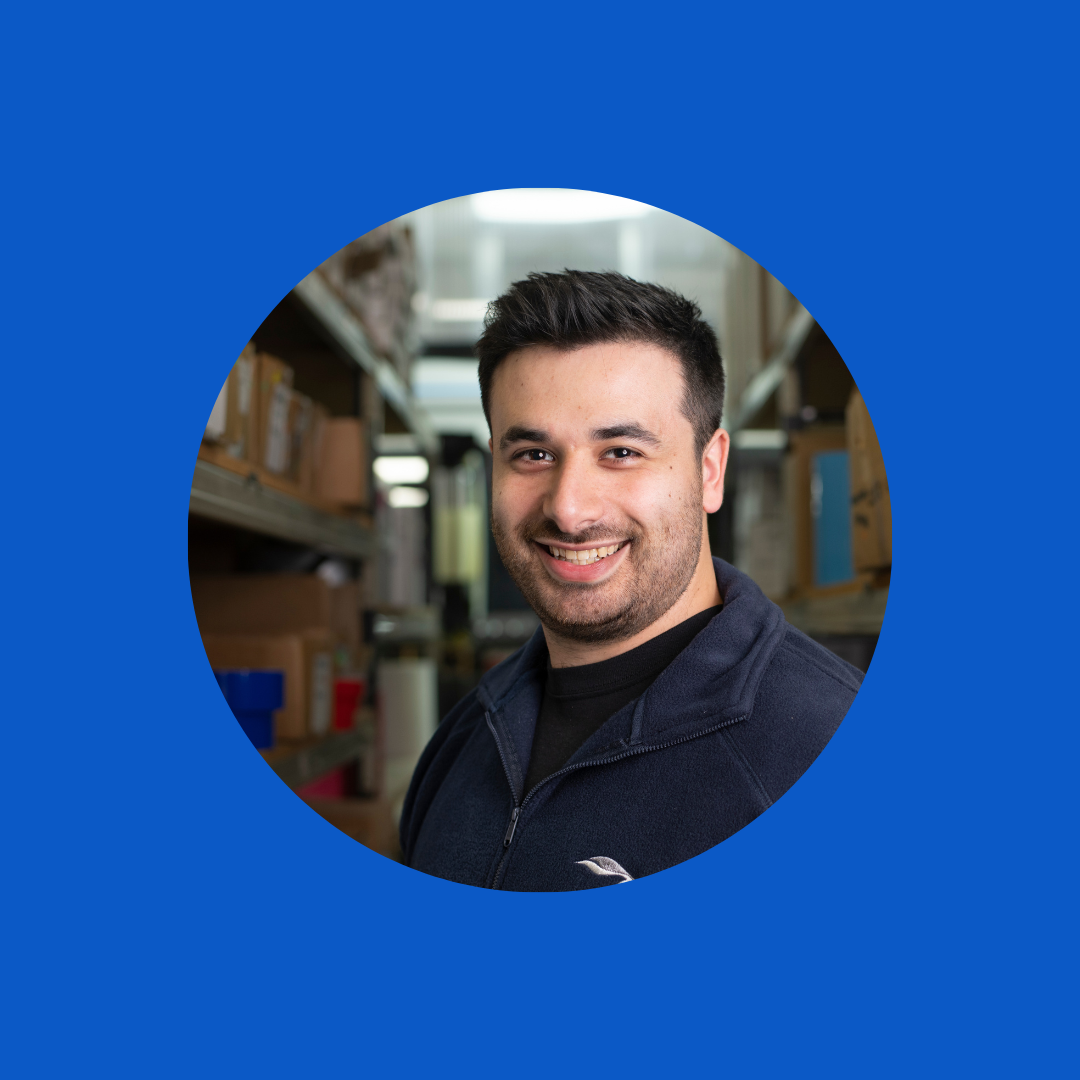 "As engineers, we know that time is not always on our side...
at Silver Fox®, our goal was to design a comprehensive labelling solution that could be integrated straight onto your desk - removing the arduous and unnecessary back-and-forth to chop and change between printers. Ultimately saving you time, that can then be spent on the tasks that really move the needle."
Alex Michaelson BEng MIET, Head of Research & Development
Contact Our Team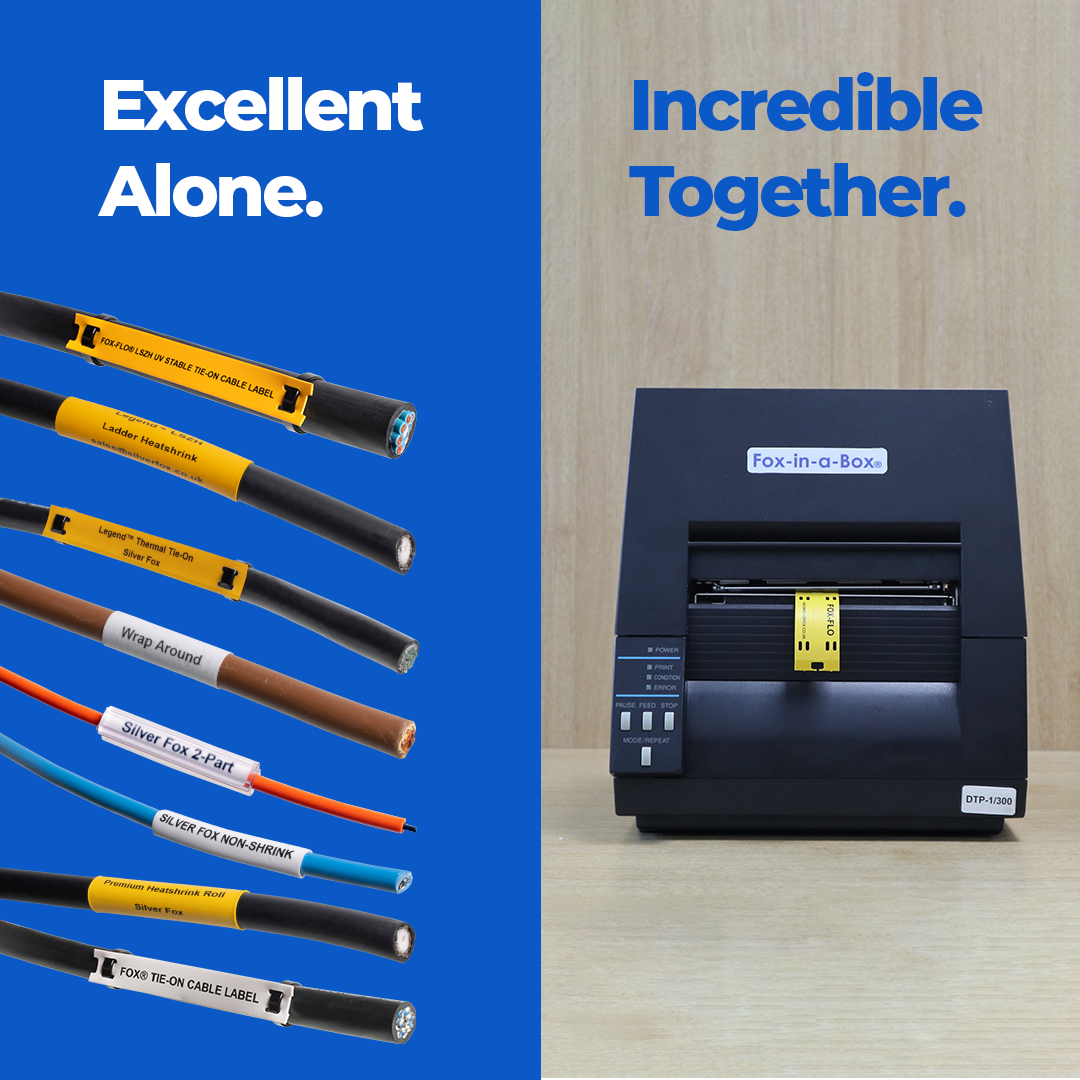 Why the Fox-in-a-Box® is trusted globally
✔ Print over 160+ variations of cable and equipment labels
✔ 'Roll-back' calibration reduces waste labels
✔ Efficiently switch label type without a change in printer
✔ Extensive YouTube tutorial set that is always being updated.
✔ Includes a FREE Labacus Innovator® license for high performance editing
✔ Future proof your investment with lifetime updates
Click below to speak to one of our team!
Contact Our Team
Print Your Labels Faster - Time into Profit!
Choose from our three levels...
With our Basic, Advanced & Professional levels, you can tailor the system to match the needs of your project and when the time is right for you, seamlessly upgrade to unlock greater functionality – we want to grow with you!
Basic

Cut and paste from spreadsheets straight into the software
Automated USB port identification
Seamlessly change between label types

Advanced

All functionality of the Basic
From CSV Spreadsheet – Import single columns/merge multiple columns
Multiple line labels
Choose your own font size
Print 2 rolls of heat-shrink/non-shrink at same time

Professional

All functionality of the Advanced
Full spreadsheet view/import
Select specific cells
Produce cross ferrules
Variable quantity duplication for cable IDs
Bar Codes and QR Codes
Import graphics onto labels
Special Professional satellite
And that's not all!
Includes free of charge training
Includes free of charge support
Includes free of charge software updates
'Good to knows'
Thermal Printer

Printer: DTP-1 300dpi thermal printer
Technology: Thermal Transfer
Resolution: 300 dpi
RAM: 8mb
Weight: 4.5kgs
Interface: USB
Dimensions: 231mm (W), 289mm (L), 270mm (H)
Harmonised System (HS) Code: 84433210
Available in 230v or 120v (230v is sold as the standard, unless otherwise requested or the customer is in North America)
Software

In-house developed Labacus Innovator® Basic / Advanced / Professional
Web download
Suitable for Windows OS (Windows 7 64-bit & up)
Suitable for 4K screens
Thermal Transfer Ribbon

All Fox-in-a-Box® thermal printers come with a 300m thermal transfer ribbon. Either the:

TSR3/300/110
TSR/300/60
TSR/300/25

The ribbons are available in 110, 60, or 25mm widths

The ribbon width impacts the width of labels you are able t print. For more information, check out the Fox-in-a-Box® Thermal Transfer Ribbon page
Label Guidance System
Cables

USB printer cable (connection to PC)
Kettle Lead (Power)
Manual

Included with all Fox-in-a-Box® thermal printers is a quick start manual to reduce set-up time
The manual has recommended printer settings for over 160+ label types that go through the Fox-in-a-Box®
Free-of-Charge Support

Full Free-of-Charge technical support via:

TeamViewer
Microsoft Teams
Phone - +44 (0) 1707 37 37 27
Email - support@silverfox.co.uk
Whatsapp for Business

Users of the Fox-in-a-Box® are encouraged to book in a time with the support team at their earliest convenience to go through the solution and make sure they re getting the most out of their investment.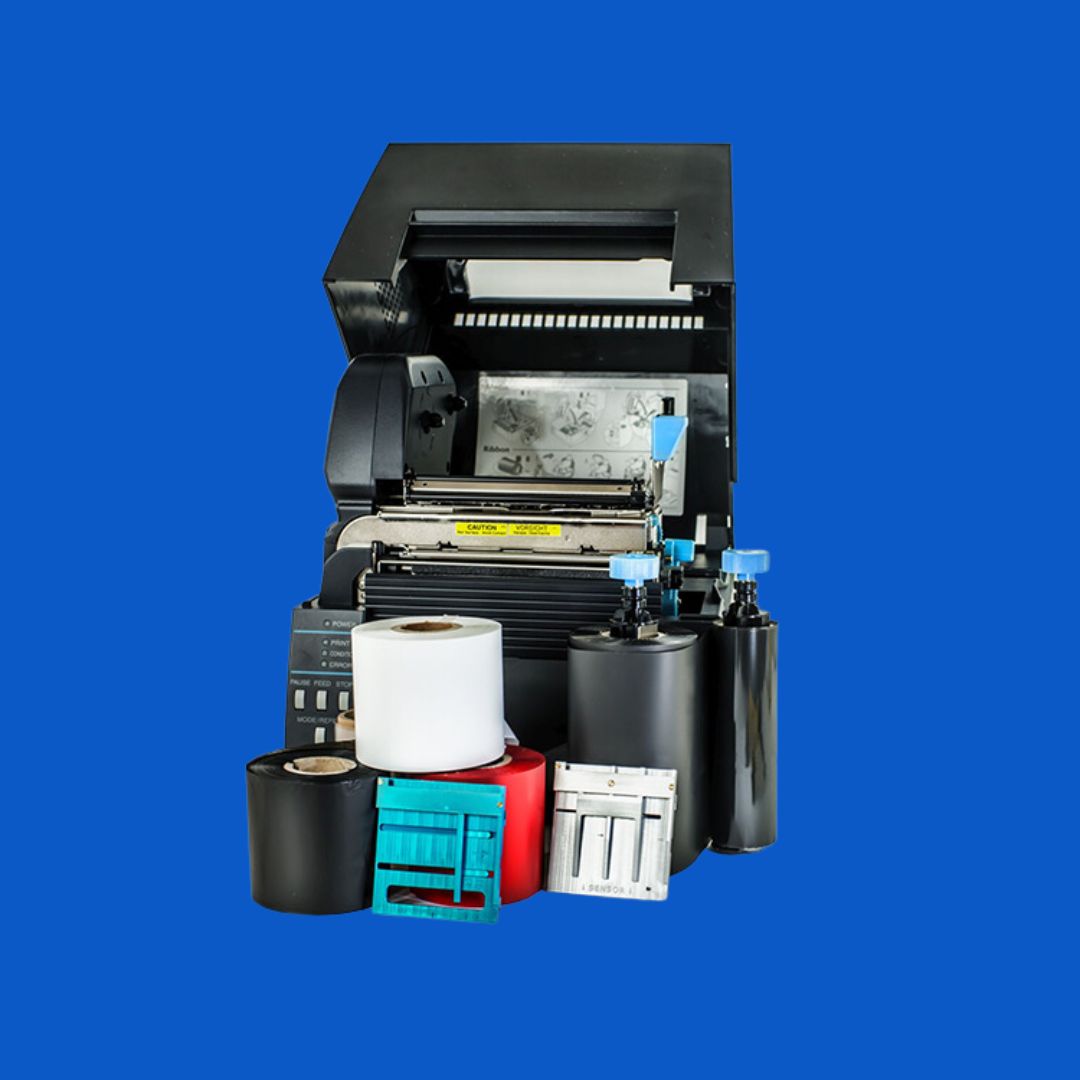 Rapid Support Team
Our engineers and support staff work tirelessly to ensure that the software is aligned with the most recent technological advancements and that it meets the demands of all of our customers. And to protect your investment, we guarantee that every system remains automatically up to date with the most recent developments.
Click below to speak to one of our team!
Contact Our Team
Don't just take it from us
"Helpful and knowledgeable with a quick turnaround and clear communication. Very professional and courteous staff. Would highly recommend."

- A, MURPHY

"I have been working with Silver Fox for over 3 years now and they are always looking for ways to improve their products and support in order to add value for their customers. A very professional company to work with."

- S, ARMITAGE

"The team at Silverfox are nothing short of a delight to work with. They know they're products and market inside out, only deal in quality and nothing is to big of an ask. If you are looking for labelling solutions I couldn't recommend them enough."

- S, BANGLE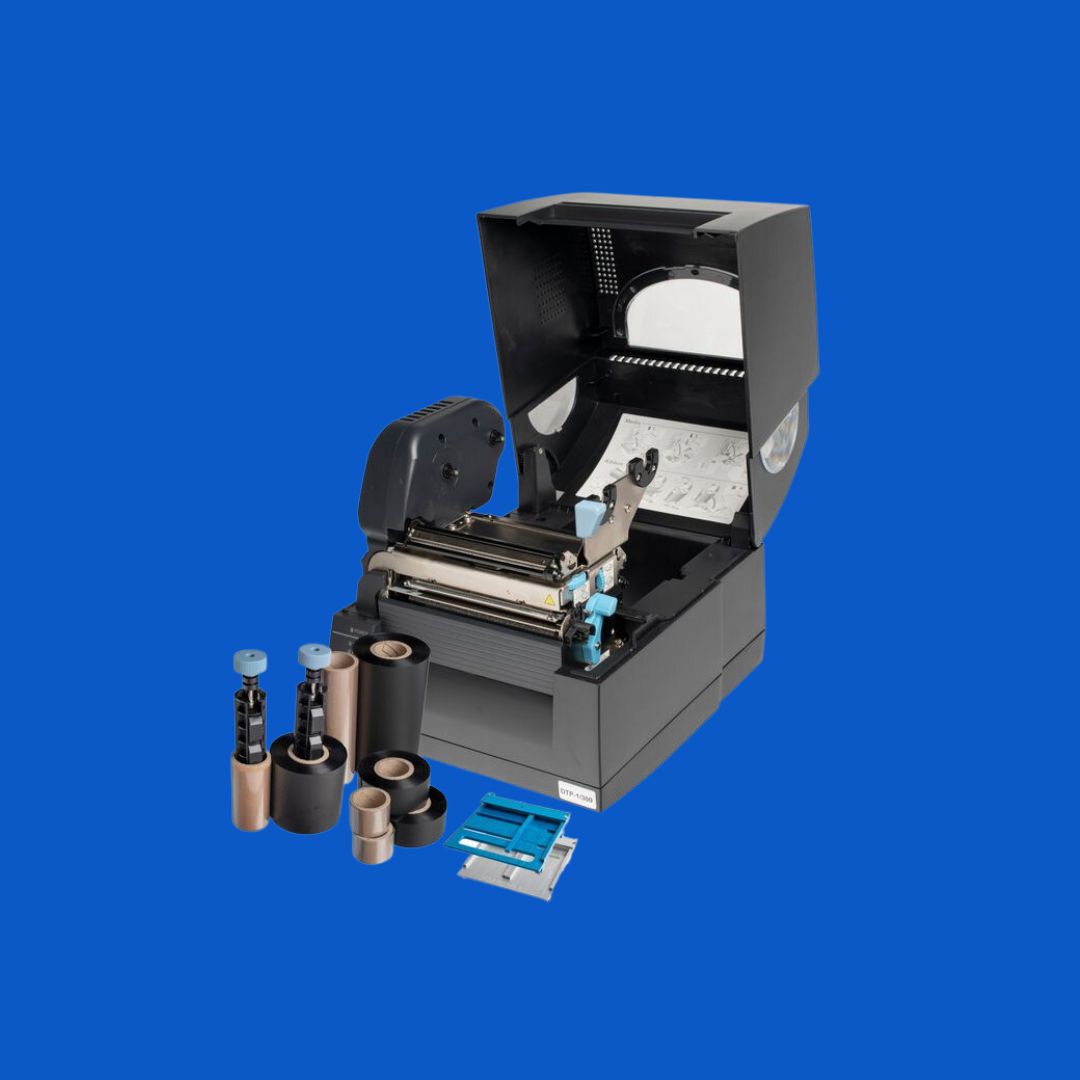 Print 160+ Thermal Label Types with the Fox-in-a-Box®
If you would like to learn more about our Fox-in-a-Box® solution email us at sales@silverfox.co.uk or click the link below to visit our website.
Click below to speak to one of our team!
Contact Our Team
How to setup the Fox-in-a-Box®
To find out how easy it is to set up your Fox-in-a-Box – watch the video below.  Plus remember, if needed there is free support and training every step of the way with Whatsapp, Teamviewer & Teams.
FAQs
Which labels can I print with the Fox-in-a-Box® thermal printer?
My Labacus Innovator® software hasn't automatically selected a printer port. How do I fix it?

Make sure you have administration rights over the printer. You need to be able to "Print", "Manage Printer" and "Manage Documents". If you have administration rights, restart your computer, and make sure the printer is connected and switched on before you start Labacus Innovator®.
The lights are flashing on my printer. What is wrong?